ART PEEL BASE Natural rubber based cleaning system 2l
ART PEEL - CLEANING SYSTEM FOR FRESCOES, STONE, MORTARS AND OTHER MINERAL SUBSTRATES; ART-PEEL is a paste system for interior and exterior cleaning, to remove dirt and dust from all kind of surfaces:dust, soot, nicotine deposit and other pollution from interior walls, ceilings,floors, stucco, natural stone, marble,concrete, bricks, plaster, gypsum statues, polished wood, synthetic materials,
ART PEEL
ADVANTAGES

• NO PROBLEMS WITH WATER
• EXISTING SALTS ARE NOT RE-DISSOLVED
• NO RISKS FOR UNDERLYING WORKS OF ART
• NO RISKS FOR STAINING
• NO FORMATION OF MILDEW
• THE PORES ARE ALSO CLEANED
• THE DEEPER PROFILES ARE ALSO CLEANED
• NO CHEMICAL AFTER-EFFECT
• USER-FRIENDLY
• NO ATTACKS ON GYPSUM RESTORATION
• EFFICIENCY AND SPEED - CAN BE SPRAYED
PREPARATION OF THE SURFACE
- Vacuum all supports including mouldings, carved stonework and the flat areas of the wall.
- Mask off gilded, painted,glass or metal surfaces with a thin polyethylene foil.
- Protect doors, windows,monuments and other fragile items with heavy duty grade polyethylene.
- Carefully tape to seal protection completely and to prevent the ingress of water,cleaningfluids, dustor debris.
-The area to be cleaned shouldbe dry and free from dust and loose debris.

APPLICATION OF ART PEEL:
Art Peel is ready for use.
Never dilute the product.
Mix Art Peel-Base and Art Peel-Aktiv in weight ratio 100:10 to 100:50 depending on level of dirt.
Art Peel should be mixed very well before applying with a paint brush or a spraying machine.
Insure that he product forms a continuous film and that in carve areas it is properly applied to all details reaching all crevices.Do not apply on hot surfaces.
REMOVAL OF DRY FILM

The Art Peel cures up to 24 hours depending
upon thickness of application and atmospheric conditions.
20°C – 40% r.h.: 3 hours
20°C – 65% r.h.: 3 hours
20°C – 95% r.h.: 22 hours
30°C – 65% r.h.: 2,5 hours
Peel back the cured surface. Art Peel never needs washing down. When removing the pack from areas of carved stone work,particular care must be taken to peel the pack back gently, cutting it where necessary to reduce tension.
Clean down from the highest point using a little water and sponges. Where necessary medium nylon bristle brushes will be used to clean more intensively. Care should be taken to use as little water as possible.
TOOLS CLEANING
With cold water.
CONSUMPTION
On flat surface: 0,7 - 1,0 kg/m²
On carved surface: 1,0 - 3,0 kg/m²
Density: +/- 0,94 – 0,99 kg/ltr
SHELF LIFE
Maximum 1 year in closed conditioning and frost-free.
PRECAUTIONS
Avid contact with the skin.Carefully was hands with water and soap before smoking or eating.Ensure a good ventilation during the preparation and the application of the product.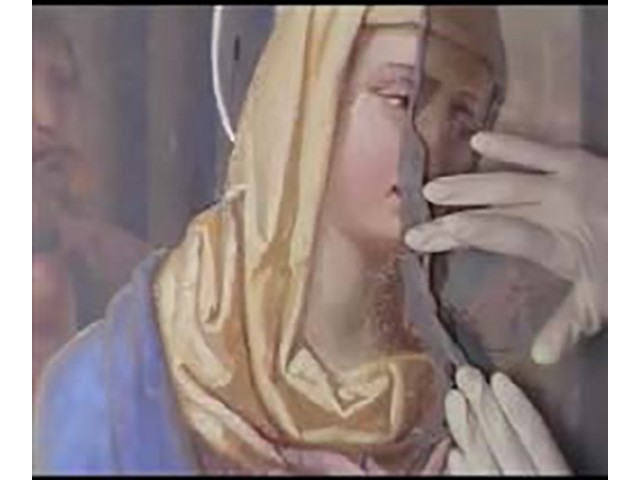 ART PEEL - CLEANING SYSTEM FOR FRESCOES, STONE, MORTARS AND OTHER MINERAL SUBSTRATES
ART PEEL - CLEANING SYSTEM FOR FRESCOES, STONE, MORTARS AND OTHER MINERAL SUBSTRATES; ART-PEEL is a paste system for interior and exterior cleaning, to remove dirt and dust from all kind of surfaces:dust, soot, nicotine deposit and other pollution from interior walls, ceilings,floors, stucco, natural stone, marble,concrete, bricks, plaster, gypsum statues, polished wood, synthetic materials